ORCC Trampolines: Make Childhood Joyful
We determine to focus on trampolines from the very beginning as we believe they are the best solution to make childhood joyful for most kids.
Safer Structure
Only those who have experienced the fun to go beyond gravity can know how unforgettable it would be to jump on an ORCC trampoline.
Strengthened Parts
When it comes to safety, we always say "NO" to compromise.
The Reinforced Mat
The double-needle sewed mat stands out from others for its durability and beautiful looking. Also coated to be waterproof and UV-resistant.
The Net Pole and Pad
The pad is coated to be waterproof. The net poles wrapped by 10-mm-in-thick foam are anti-slip and shock-absorbing.
The Upgraded Ladder
We've upgraded the steel poles to pedals as they are less slippery and more effective in preventing falls.
*Note: No ladder for the 8' trampolines.
Higher Weight Capacity
The 4 mm steel T-Sockets are 2 times thicker than others, making the structure more stable and durable and delivering a max weight capacity of 450 lbs.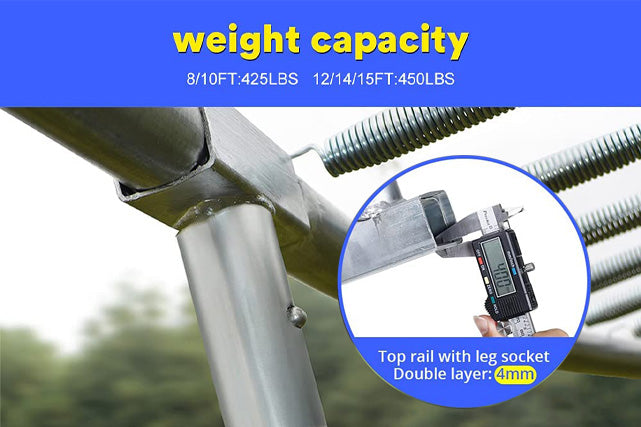 Better Bounce
Outperformed Mat + More Springs = A Better Bounce
Longer Service Life
The hot-dip galvanized frame and the reinforced mat & pad are what we take great pride in. The rain cover also protects the structure when it's not in use. We're sure your ORCC trampolines would stand in your backyard for years.
Easy Assembly
Come with all the assembly tools.
You can either read the instructions (in print or online) or watch the video tutorial.
Warranty
The warranty varies from parts and only applies to manufacturing defects in materials and workmanship under normal use. Damages due to the extreme weather, improper use, assembly, storage, and maintenance are NOT covered.